Temperature Anomalies (1880 – 2023)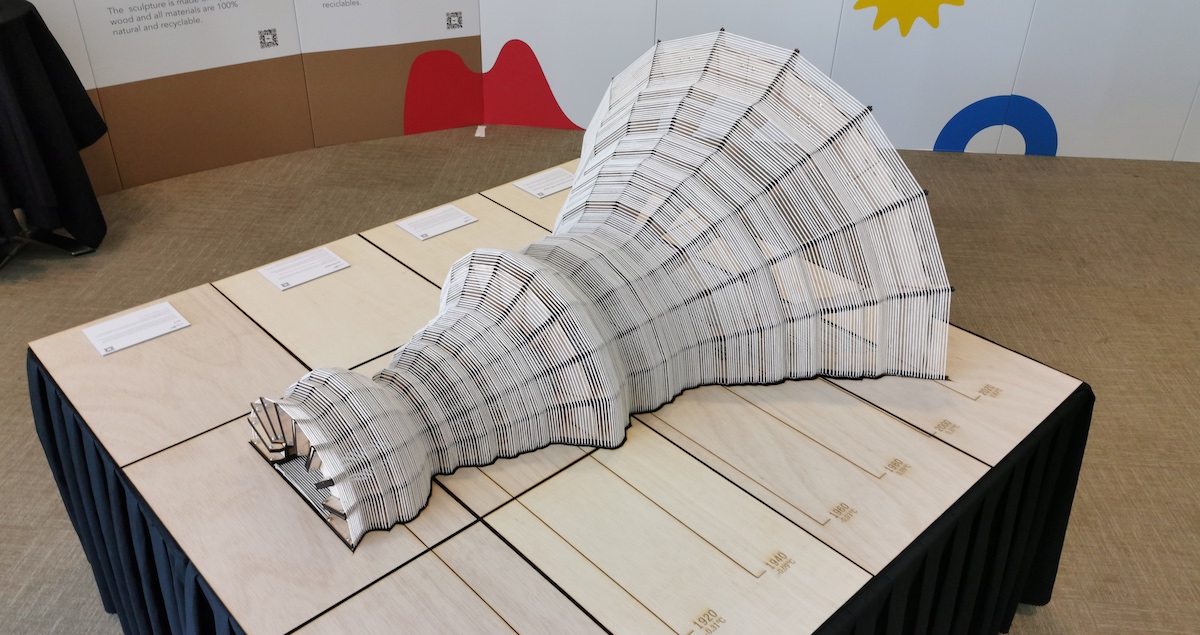 This sculpture is a contribution to the 2023 Festival de Datos, organized by the Global Partnership for Sustainable Development Data, and Uruguay  Presidency.
The chosen theme for the sculpture is the progression of climate change, a topic we deem both highly observable and pressing. The sculpture recasts the NASA data, which shows temperature anomalies since 1880 and how the average global temperature has increased just over 1C (33F) since 1880.
It is built on wood and covered with natural rope. All materials are 100% natural and recyclable. The sculpture is 150 cm wide, 135 cm long and 67,5 cm tall.
Artists: Antonio Moneo and David San Román
APPLYING "FROM DATA TO ACTION FRAMEWORK"
Tangible Data's "From Data to Action" approach is at the heart of every sculpture. It's all about three things: feeling the data, recalling what matters, and then doing something with the thoughts and feelings the sculpture brings up. See how we apply the framework to this sculpture!
We hope visitors to find a different way of interacting with the data. We create models with which to compare the data's change in magnitude. We create objects that can be felt. We allow viewers to appreciate data from different points of view.
We have chosen a method of visualization consisting of longitudinal "ribs" that represent the data series up to 8 times, arranged around the same axis, which allow us to create a model. To add volume to the piece, we have surrounded the ribs with rope that allows us to cover the gaps between the ribs without blocking them from view. With this, we want to create an effect similar to the small-scale reproduction on the information panel.
The small-scale reproduction found next to the sculpture is made of recyclable PLA material. Its purpose is to allow the audience to manipulate the data series and feel the changing trends through touch.
This sculpture represents a ten year moving average of temperature anomalies, in Celsius, since 1880 through 2023.
According to scientists at NASA's Goddard Institute for Space Studies (GISS) in New York, July 2023 was hotter than any other month in the global temperature record.
Since the end of the 19th century, the global average temperature has experienced a significant increase. An increase of about 0.8 degrees Celsius (1.4 degrees Fahrenheit) has been observed since 1880. Additionally, NASA has reported that most of this increase has occurred in recent decades.
During the 20th century, significant warming trends were observed, especially beginning in the 1970s. This period has been associated with an increase in greenhouse gas emissions and human activities related to industrialization and the burning of fossil fuels.
Having access to this climate change series is a real privilege. Unfortunately, high quality data is not always available. Less so in many of the countries where data is most needed.
For this reason, our call to action focuses on publicizing the "Data Values" campaign and the "Inclusive Data Charter", two critical initiatives promoted by the Global Partnership for Sustainable Development Data.
The Data Values is a global movement of hundreds of people from more than 60 countries that fosters dialogue and catalyzes action to ensure a fair data future for all. By promoting its toolkit, we hope that the audience will find resources to continue promoting data culture and establish connections with change agents who are already advancing this agenda in different parts of the world.
The Inclusive Data Charter mobilizes political commitments and meaningful actions to advance inclusive and disaggregated data. The IDC advances the availability and use of inclusive and disaggregated data so that governments and organizations better understand, address, and monitor the needs of marginalized people and ensure no one is left behind. Launched in 2018, the IDC has quickly built momentum for inclusive data, garnered commitments from 30 diverse Champions, and supported them in accelerating and deepening progress.
Buy a replica of this sculpture
On Tangible Data store we have included a small version of the data sculpture presented at the 2023 Festival de Datos. Our commitment is to use the funding obtained through this store to support sustainable development data initiatives across the world.